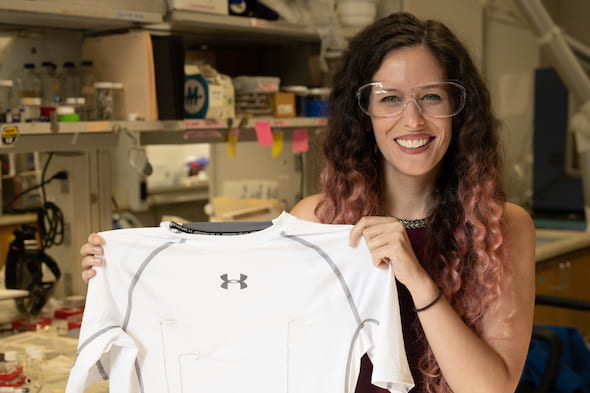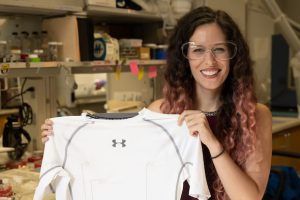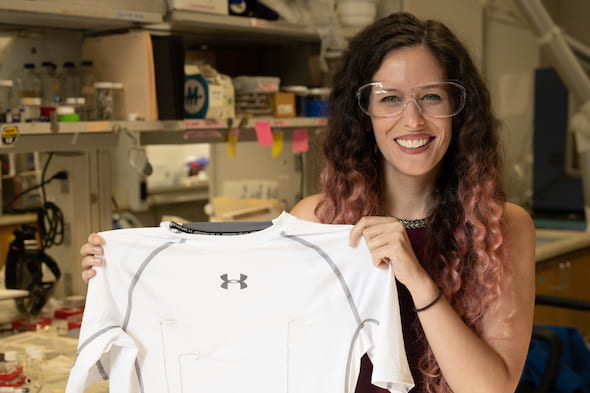 It actually monitors the heart of the person by using "conductive nanotube thread" woven into the normal cotton. The thread is soft to the touch, say the researchers, but has the conductivity of metal.
Specifically, researchers at the Brown School of Engineering in the Texan university – led by chemical and biomolecular engineer Matteo Pasquali – have sewn the special material into an athletics top to take a continual electrocardiogram (ECG) of the wearer.
"The shirt has to be snug against the chest," said Rice graduate student Lauren Taylor, lead author of the study (pictured above). "In future studies, we will focus on using denser patches of carbon nanotube threads so there's more surface area to contact the skin."
The thread can be used with standard sewing and washing machines, and the results compared favourably with commercial medical electrode monitors.
The point of interest for Nordic is that Bluetooth LE is used to transmit the data. The article states:
"The fibers are just as conductive as metal wires, but washable, comfortable and far less likely to break when a body is in motion, the researchers claim."

"The fibers provided not only steady electrical contact with the wearer's skin but also served as electrodes to connect Bluetooth LE transmitters to relay data to a smartphone."
You can read more about the smart clothing research here.
Co-authors of the paper, alongside Lauren Taylor, are Rice graduate students Steven Williams and Oliver Dewey, and alumni J. Stephen Yan, now at Boston Consulting Group, and Flavia Vitale, an assistant professor of neurology at the University of Pennsylvania. Pasquali is director of the Carbon Hub and the A.J. Hartsook Professor of Chemical and Biomolecular Engineering and a professor of chemistry and of materials science and nanoengineering.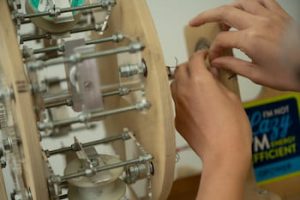 Above, Rice University uses a custom device that weaves carbon nanotube fibers into larger threads for sewing.
Images: Jeff Fitlow, Rice University