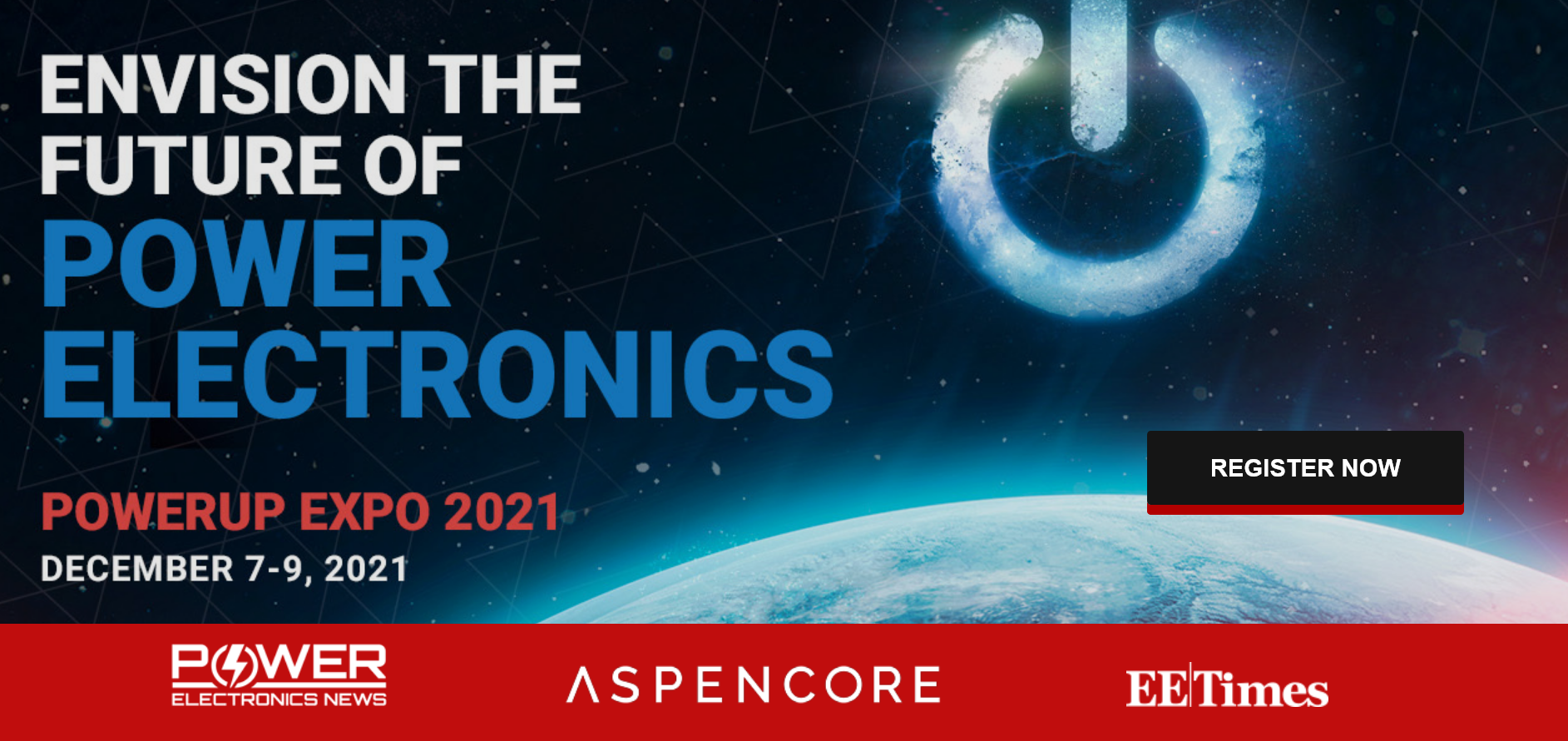 Power electronics is playing an increasingly important role in various markets such as automotive, industrial, and consumer. It is an enabling technology for a wide range of new functions that enhance vehicle and smart grid performance, safety and functionality. Power devices will improve system performance in energy-saving applications, as well as in all high-voltage industrial applications.
PowerUP Expo is a virtual conference and exhibition that aims to envision the future of Power Electronics.
Conference Program:
December 7 – Lectures/Tutorials & Preview
On Dec. 7, we will be running several 1-hour Lectures/Tutorials with live Q&A and we will preview the Technical Presentations from the whole conference. You may watch these presentations on demand all day on Dec. 7 and if you have any questions, you may come back on Dec. 8 and 9 for live Q&A chats with the speakers.
December 8 – Wide Bandgap Semiconductors
The next wave of GaN and SiC: The availability of wide-bandgap (WBG) devices is providing new solutions and answers to the challenges that power device designers face in an era in which the watchword is "efficiency." WBG semiconductor technologies such as silicon carbide (SiC) and gallium nitride (GaN) promise benefits in wide-ranging applications, from universal wireless charging to power converters.
December 9 – Motor Control/Energy
High-efficiency Motor Control for Industry: Semiconductor devices serve the needs of motor drive and power control, which offer a better position, and torque, as well as much higher efficiency. The motor control circuit must switch the current flow to the motor coils on and off quickly, with minimal switching time or conduction period losses. As efficiency standards for these applications continue to strengthen, cost-efficient and energy-efficient motor control solutions simplify the design and provide a high level of integration, along with enhanced safety features and certified isolation capabilities.
The Future of Energy: One problem to be solved for the future of humanity is related to energy, global warming, and the depletion of fossil fuels. Renewables, energy storage, power grids, and other energy trends emphasize the reliability of aging electrical infrastructure and transmission and distribution lines around the world. Growing and supporting renewable energy poses a lot of challenges.
PowerUP works in the same way as a live exhibition and conference does: it has fair grounds, an exhibition hall, and a conference area.
During the technical conference, we will have topic-specific tracks with keynotes, panel discussions, technical presentations and tutorials covering major technical trends, market requirements, new applications areas, etc.
Parallel to the Conference there will be an Exhibition, featuring virtual booths from leading power electronics companies. A Live Chat tool enables visitors to directly contact the booth personnel.