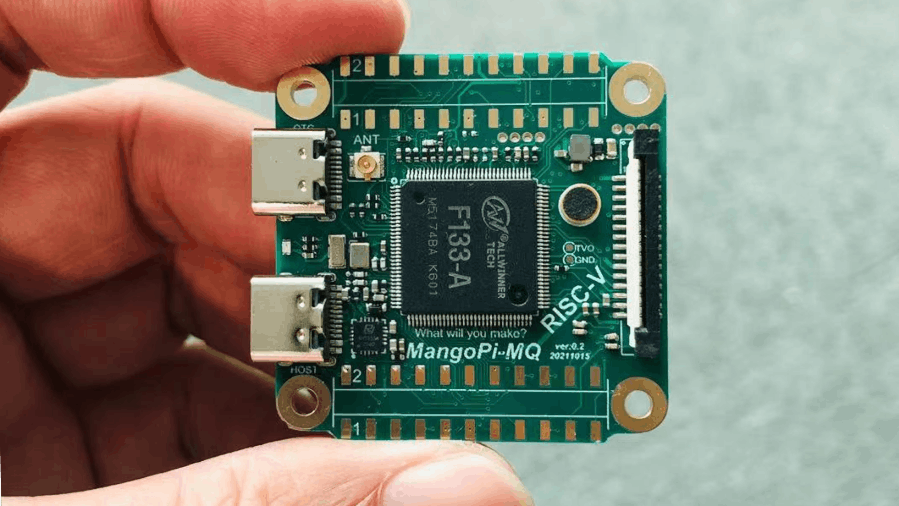 Cost and size are two things you consider when choosing components for portable systems, after functionality and performance. Not too long ago, we saw the Sipeed's Lichee RV that was launched for about $20 and designed to compete with the $99 Nezha SBC. Now, MangoPi has released an open-source development board called MangoPi-MQ which sells for even a cheaper price of $10.
The MangoPi-MQ also called Sparrow is a mini-compact, low-cost and high-performance RISC-V Linux-based development board for Allwinner D1s chip. The development board is a 40mm x 40mm condensed board with minimal resources for reduced systems complexity. It has a clock speed of 1.0 GHz alongside 64MB RAM, and a 5V/2A power supply via OTG or USB-C 2.0 connector. The board also features an LVDS for video support as well as a built-in microphone for audio, WiFi 802.11 b/g/n for networking and micro-SD and SPI NAND for storage.
The D1s SoC is a low-cost chip for Artificial Intelligence of Things (AIoT) for smart packages, signals, and data codec processes. It runs a 64bit RISC-V XuanTie-C906 processor of Alibaba T-Head division with 64MB DDR2, and features audio and video coding and decoding protocols which support H.264, H.265, MPEG-1/2/4, JPEG video formats and ADC/DAC/I2S/PCM/DMIC/OWA audio interfaces. The D1s chipset is Linux compatible and suitable for automotive applications and smart home and industrial solutions.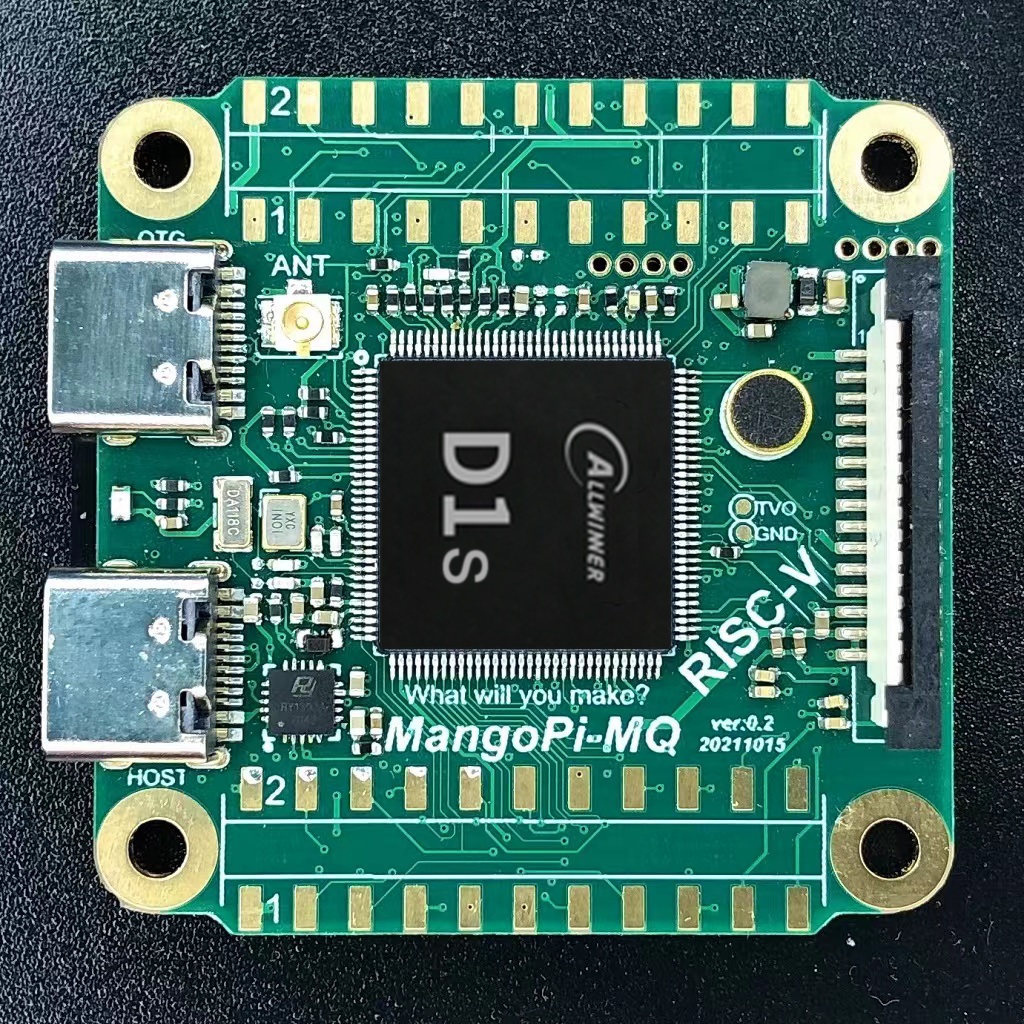 Key Features and Specifications:
SoC: D1s @ 1.0Ghz, 64MB DRAM
DC 5V/2A (via OTG or USB-C connector)
LVDS
Inbuilt microphone, I2S
WiFi 802.11 b/g/n
Micro-SD
SPI NAND
1x USB-C 2.0 Host
1 x USB-C OTG
15P universal Raspberry Pi DSI FPC row seat
40P universal row seat (RGB FPC)
6P universal capacitive touch row seat (FPC)
24 Pin DVP interface
2x 22 Pin extension header
Boot button
Reset button
Dimension: 40 mm x 40mm
MangoPi is open-sourced and Linux systems compatible. According to a preliminary post on hackster, the board will offer a port of Allwinner's Tina-Linux, more like an old version of OpenWrt framework for resource-constrained environments when sales begin. However, an updated GitHub repository of MangoPi SBC reveals only a license for MangoPi-MQ although the xfel tool for FEL mode of Allwinner's D1 also supports the D1s according to Linux-Sunxi is available. Other documentation would likely show up on the GitHub repository in due time; you just have to keep following it.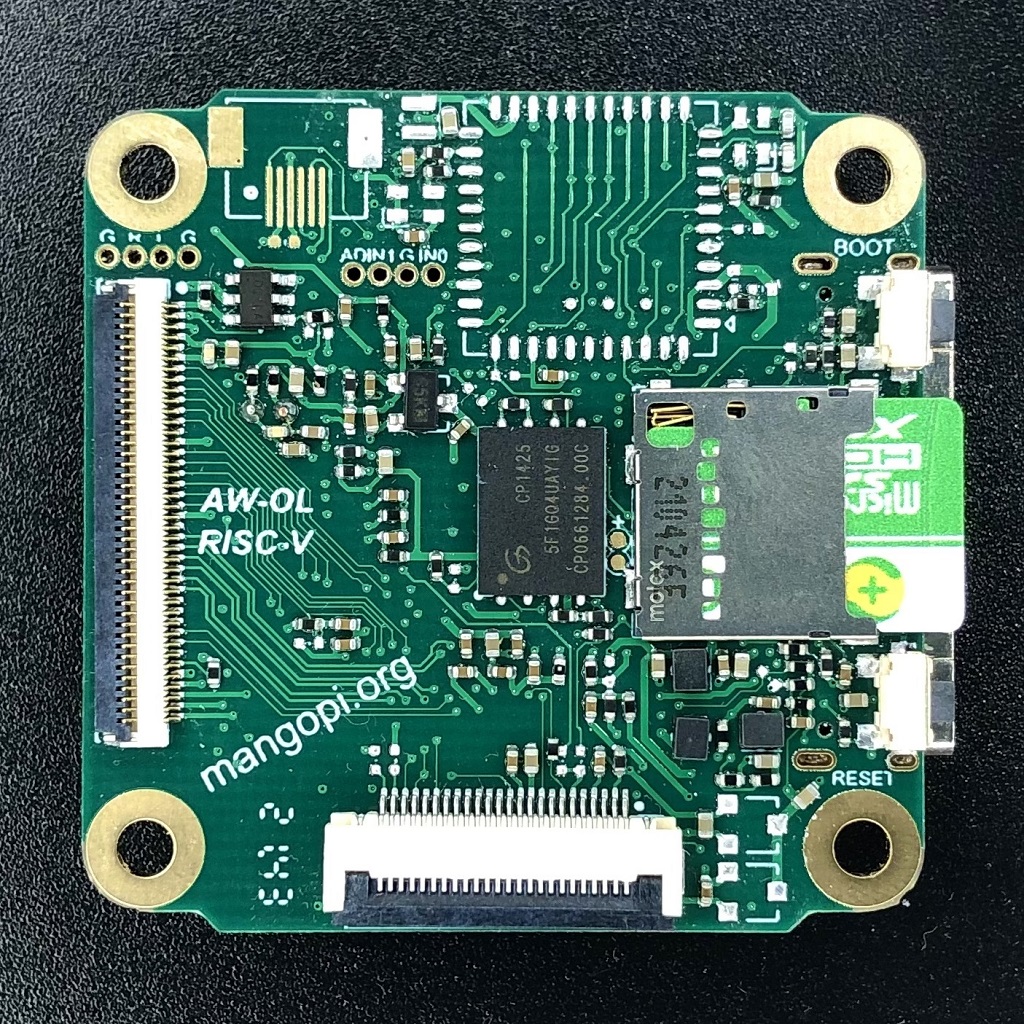 We should expect sales sometime within the month as no fixed date has been made known to the public yet. A post on mangopi.org only just said that the flagship AI-Linux open-source hardware will come soon. The completed boards will likely be available for sale on SeeedStudio and Taobao when sales commence.
Other useful details about the board can be found on the MangoPi website and the product page.