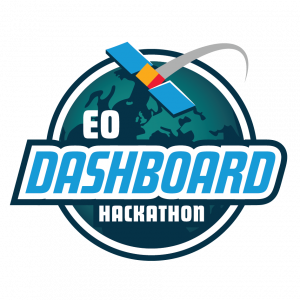 CleverChart and TRACER are declared as the winners of the main Open Science Award. They used data from the Copernicus Sentinel-3 mission and Sentinel-5P satellite, respectively, which features within the Earth Observing Dashboard.
What exactly is the Earth Observing Dashboard (the "EO Dashboard" for short)? According to ESA:
The EO Dashboard is an interactive data resource that gives the public and policymakers a unique tool to probe the short-term and long-term impacts of pandemic-related restrictions implemented around the world through the lens of Earth observation satellites.
The space agency reports the hackathon covered a range of topics, including air and water quality, economic, greenhouse gas effects and social and agricultural impacts.
CleverChart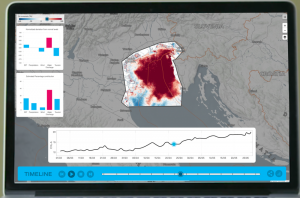 Of the two winners, CleverChart came up with a graphical interface (pictured) that allows users to easily chart water quality changes and see the drivers of those changes.
The team used water quality maps of Chlorophyll concentration and Total Suspended Matter, computed using data from the Ocean and Land Colour Instrument onboard the Copernicus Sentinel-3 mission.
The team also won the ESA ESRIN Data Award for using ESA data the most effectively. Note, you can see the code on GitHub.
TRACER
TRACER (Tracer of Ship Traffic and Nitrogen Dioxide), the other main winner, is described as an interactive satellite data portal that tracks ship movement and measures air pollution in regions near shipping lanes.
This is done by using data from the Tropomi instrument onboard the Sentinel-5P satellite – the first Copernicus mission dedicated to monitoring our atmosphere.
The information is combined with data from the Vessel Traffic Data (AIS) dataset, weather information and machine learning to predict and understand ship pollution. Impressive. The project code can be found here.
Hackathon
The event took place back in late June, involving 4300 participants from 132 countries, and they were working to help solve challenges related to the COVID-19 pandemic. You can find out more information from the competition's homepage.
And the winner of the @esa ESRIN Data Award for the #EODashhack hackathon goes to… CLEVERCHART!
The team used @CopernicusEU #Sentinel3 to allows users to easily chart water quality changes and see the drivers of those change. https://t.co/kUxgQtZzbJ

— ESA EarthObservation (@ESA_EO) September 14, 2021
The winners have received certificates from NASA, ESA and JAXA and have the opportunity to integrate their findings into the Earth Observation Dashboard and the Euro Data Cube.
Also, they'll receive five vouchers of $2000 to spend on ESA's Network of Resources portfolio, which is an initiative to use Earth observation data in cloud environments.
Finally, winners are also invited to attend a launch at one of NASA's facilities, once travel is deemed safe.
The Earth Observation Dashboard Hackathon is managed by the Earth Science Division, Science Mission Directorate, at NASA Headquarters in Washington, DC.