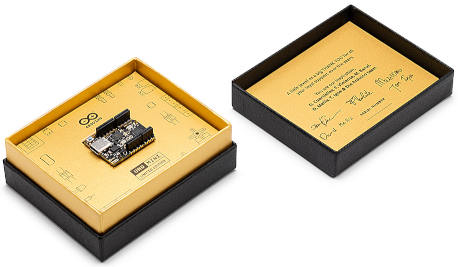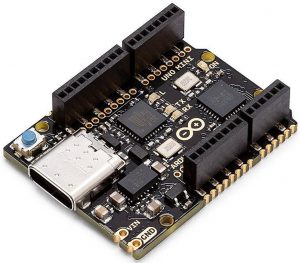 True you pay more (€40), but it comes in a nicer box, in a non-standard colour, and it also has a footprint that has never been seen before – a tiny (34.2 x 26.7mm) squarish mini-UNO format rather than the 0.6in dual-in-lines that smaller Arduinos and compatibles tend to appear in.
Its name is Arduino Uno Mini Limited Edition.
Noticeably, looking at the photo (right) a USB-C connector has replaced the usual -B, Micro or Mini USB.
The sketch processor remains the venerable 16MHz ATmega328P (32kbyte flash, 2kbyte ram, 1kbyte eeprom) and the USB interface is run by a 16MHz ATmega16U2, as it is in the Uno.
Also just like the Uno, Uno Mini has 14 digital IO pins, of which six can produced PWM signals, and six analogue input pins. The pitch within the four single-n-line connectors has been reduced to fit all of this IO in – Electronics Weekly has asked for the size – from the data sheet measurements it appears to be 1.27mm (0.05in) pitch.
Alongside the single-in-lines, the board has castellated edge holes and a flat bottom, so that it can be SMD mounted on another board, according to the company – that said, the USB connector stakes do project downwards in the website product photos. There are also plated through holes in which to solder IO wires directly.
"Now, after more than a decade, the special edition collectible is a celebration of the Uno and the community around it," said Arduino. "Designed and manufactured to the highest standard, this board has a unique black and gold colour scheme. With the limited edition UNO, Arduino wants to celebrate this timeless icon along with all the makers and the millions of projects contributing to this incredible success story."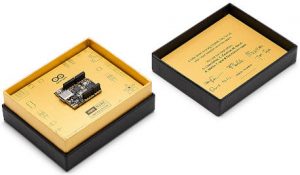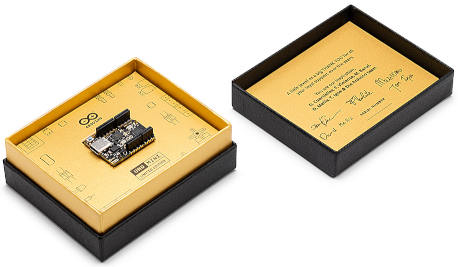 Dressed to impress  According to Arduino, appealing to your inner consumer: "The packaging plays with black and gold contrasts, thin lines and negative spaces. A little jewel to celebrate the Arduino community. Each item is unique and numbered on the PCB."
It is described as a "limited edition", but with its smaller size and the option to surface-mount, it seems reasonable to speculate that something similar (a blue one?) might become a standard product if it proves popular.
Power is via the USB connector or a separate feed. Unusually for an Arduino, the on-board regulator (MPM3610AGQV inductor-inclusive dc-dc module) is rated up to 21V. The Uno Min data sheet says 6-20V for the board, while the Uno Mini web page currently says 6-12V.