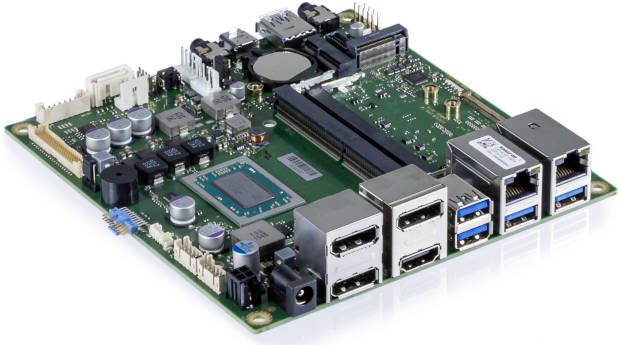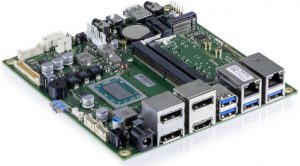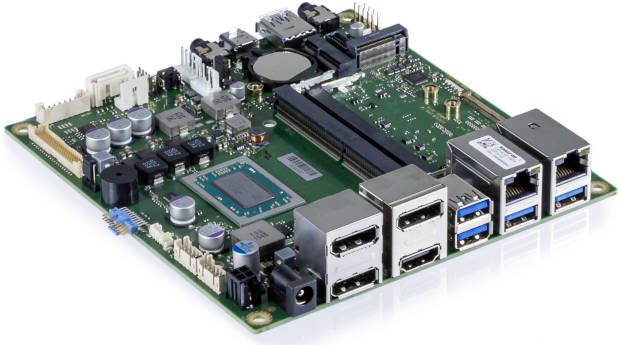 This is its first completely new motherboard since the acquisition of Fujitsu's industrial motherboard division.
Aimed at Windows 10 or Linux-64, and called D3714-V/R mSTX, they support up to four independent 4K displays for industrial PCs, medical displays, digital signage and kiosks, said the company.
It comes with up to three DisplayPorts (V1.4, including DP++ support) and one HDMI port (V2.0b). It also offers dual channel LVDS (24bit), an embedded DisplayPort V1.3 (4K), 8bit GPIO and HD audio onboard.
Other interfaces include USB 2.0 and USB 3.1 (Gen1/Gen2) as well as SATA III. An M.2 SSD interface (Key-M: 2230/2242/2280) enables the connection of SSD storage. There is also supports for M.2 WLAN/Bluetooth (Key-E: 2230), and AMD-integrated TPM V2.0 for high security trusted computing.
Three different versions:
V2 supports four displays, with AMD's V1605B processor (quad core 2.0/3.6GHz), 1.1GHz GPU, eight compute units. Accommodates CPU and systems fans.
R2 supports three displays, with AMD's embedded R1305G (dual core 1.5/2.8GHz), 1GHz GPU, three compute units. CPU fan only.
R1 supports two displays, with AMD's R1102G (dual core 1.2/2.6GHz), 1GHz GPU, three compute units. CPU fan only.
The boards are 140 x 148mm and can operate across -10 to 60°C.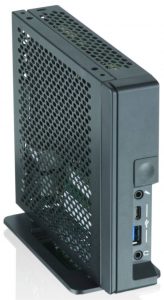 Smartcase S511 is a housing kit for the R1 and R2 variants, with USB ports at the front and rear, and designed for both horizontal and vertical use.
It is 36 x 147 x 165mm and suitable for operation across -10 to +40°C.
Product pages: